Luxury Hotels for Day Use in Venice
Day use hotels are accommodation that allow guests to
reserve a room by the hour during the day
.
To call them "hotels by the hour", however, could be misleading: the image that immediately comes to mind is that of the shabby and dirty motel in the suburbs.
Nothing could be further away from the truth.
Luxury day use hotels
Nowadays, hourly hotels in Venice and other cities of Italy, are
3, 4 or 5 star hotels
, some of them really prestigious, that make their rooms available from 9-10 in the morning up to 9-10 in the evening at
very convenient and affordable rates
.
Actually, to be a world-class hotel is essential to be admitted into this exclusive club.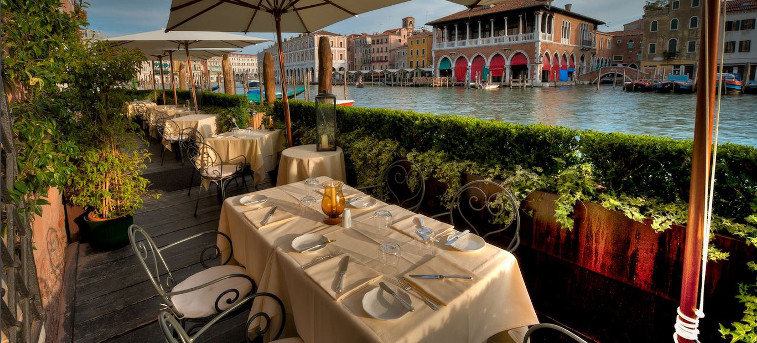 Enjoy the view from the terrace at Ca' Sagredo, Venice
Day use hotels in Venice
In Venice and surroundings, users can rely on around
20 hotels providing rooms for day use
,
e.g.
3-star Hotel Salute Palace in Dorsoduro, 4-star Hotel Ai Due Principi or 5-star Ca 'Sagredo in Campo Santa Sofia.
Day use hotels can be found also in the mainland, from Mestre to Dolo, from Mira to Quarto d'Altino.
If you need to reserve a room for the day in Venice and around, you can pay a visit to this page where you can
browse all the different day use options
available in the area.
On the other side, if you need a list of all hotels available in Venice and surrounding, you can follow these links:
Day use facilities
In particular, daybreak guests seem to appreciate hotels with
wellness facilities
that offer
day use Spa services
.
In addition, they look for day use accommodation with swimming pool, restaurant, conference centre and free Wi-Fi connection.
The day use formula includes the use of all the services available at the hotel.
In addition to Venice, people can find day use hotels also in the cities of
Rome
and
Milan
.
Day use formula at Ai Due Principi, Venice
Day use formula target
This type of service is targeted to specific users who need to book a hotel room for a few hours during the day:
-
businessmen
on a business trip
-
couples
who want to enjoy some intimacy
-
travellers
who need to rest between 2 flights
-
visiting athletes